Yes, they are! Our curriculum developer has studied all of the standards and competencies for the exam and cross-referenced these with the current and previous questions used by the testing company. She then works with content and teaching experts to distill down what a test taker would need to know.
When writing items, we aim to recreate the voice and the rigor of each content area assessed. When creating the practice test, we research the blueprints of the exams and speak with teachers who have recently taken the test.
So, we know what's covered on the exam and that is what we put into our study guides and our practice tests.
You are able to see the exam standard and where it aligns in the study guide. When you log in to your study guide, in the upper right next to the orange Plan to Pass button is a magnifying glass.

Click on the magnifying glass. A window will pop out titled Exam Standard.
Click on the arrow or begin typing in the box with the word Select. A drop-down will appear showing the test standards for that study guide.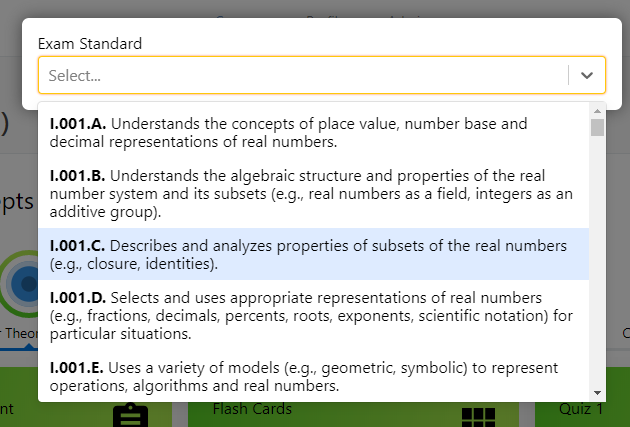 Click on the standard you want and the word Concepts appears with a link underneath it showing you where to find the material aligned with that standard.

Click on the link and then the section with that information appears in the study guide with a green circle and a series of blue circles in the center.